TAY ROC VS RUM NITTY SMACK/ URL RAP BATTLE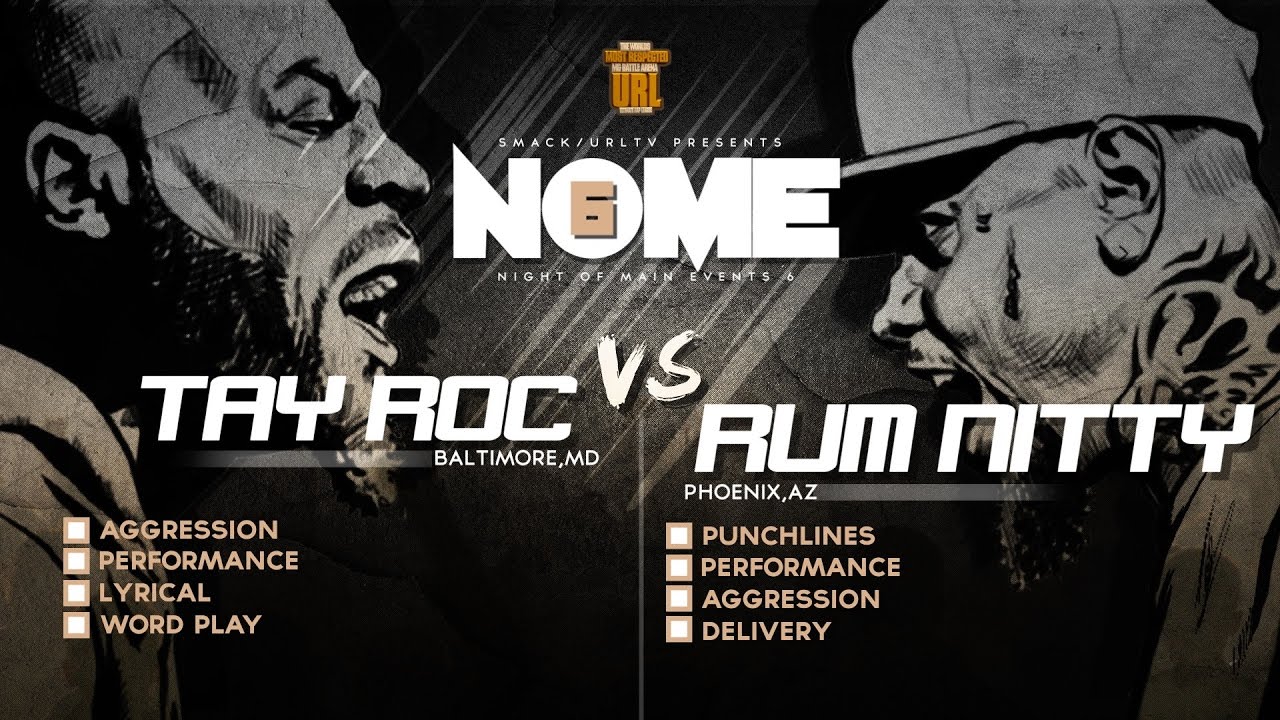 URL pulls off their best big stage event of the year as their newer talent begins to take over.
URL's "Night Of Main Events 6" was this past Sunday (November 20), and the event went down pretty much exactly how it needed to. URL continued its "no cameras, no quoting bars" policy, which is actually gaining support, while hundreds of fans who couldn't make it tuned in to Twitter for updates.
Despite some tense moments between Tay Roc and Rum Nitty and Daylyt no-showing his battle against DNA, Irving Plaza was packed to the brim with people, featuring an exciting atmosphere and plenty of fire battles highlighting newer talent. Many of URL's top tiers have stepped away from the league or battle rap as a whole for a variety of reasons over the last couple of years, but this event showed that their absence has left room for a new breed of hungry, talented, and most importantly, reliable, new battlers.
1) URL's "Next" Wave Is Officially The "Now" Wave
There's been talk of a changing of the guard at URL for some time, but it really seems to be underway now. The newer talent went 4-1 on Sunday night if you count Chess vs. Ave, which pitted two new-ish faces against each other, as an all-around victory. More importantly, fans were happy to see the newer talent show out. The first battle of the night, however, does seem a bit disingenuous to put in this category. Ill Will beat a so-so Charlie Clips like many expected, but it wasn't exactly a clean W, and Will has been around for too many years to be called anything close to new. Now, on to who you need to be paying close attention to if you're not already.
T-TOP
Due to a string of lousy, unprepared performances from Tsu Surf, a surprising number of fans expected T-Top to take this battle. That did end up happening, but not in the way fans probably expected. Surf went first, and his Round 1 was electrifying.
"Okay, he came to play," everyone thought, and it seemed like there was no way Top could steal the round. But he did. Top hit Surf with personalized haymaker after personalized haymaker, energy unwavering throughout the entire round as he stomped all over the stage. Surf was able to take the second with more phenomenal material, but he unfortunately choked after delivering much of a solid third (more on that in section #2). Top easily took the third with a versatile display, roasting Surf with an unforgettable Juvenile-inspired "you the toughest nigga in Jersey, huhhh?" pattern that had the crowd dying.
Rum Nitty and Tay Roc clash at NOME 6 to try to show who is battle rap's gun bar king.
Who: Rum Nitty (Phoenix, Ariz.) vs. Tay Roc (Baltimore, Md.)
Where: URL's "Night of Main Events 6" in New York, N.Y.
When: Nov 20, 2016
URL has announced two more match ups for their upcoming Resolution event in Atlanta, Georgia. Tay Roc will be battling K-Shine and Rum Nitty will be battling T-Top. This is in addition to the main event, Cassidy vs. Goodz. The event will be going down on April 27th.
We are sorry that this post was not useful for you!
Let us improve this post!
Tell us how we can improve this post?