TAY ROC VS CHARRON UDUBB HS2 | HIGH STAKES 2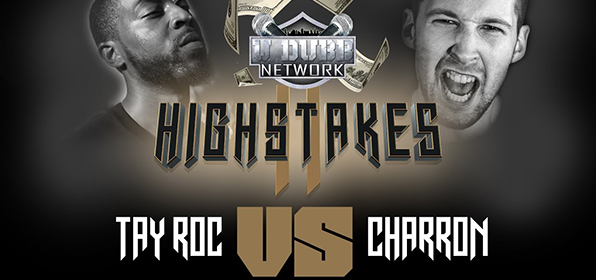 Tay Roc Vs Charron UDUBB NETWORK HIGH STAKES 2
High Stake 2 is the latest installment from the Udubb Network. The rap battle league returned with their highly anticipated  event. This match up features Tay Roc who is known for having crazy punch lines vs Charron who's considered to be crafty with respect to his bars.
Both MC's always bring their A game when stepping up to battle, so this should definitely be a battle to remember. Watch the rap battle to see who wins. Don't forget to share this battle and leave your comments below.
The High Stakes 2 battles are actually dropping and I'm surprised! The second battle from the event pits Tay Roc against Charron. This isn't the first time Charron has been on UDUBB and he likes to call himself the 'Smack Killer' because he takes out rappers that he battles on URL. Do you think he caught a body against the 'Gun Bar King' Tay Roc?
The Bar Exam Game Show Season 1 – http://goo.gl/Hlu3cK
The Bar Exam Game Show Season 2 – http://goo.gl/AmXRmx
The Bar Exam Game Show Season 3 – https://goo.gl/ZiB2he
The Bar Exam Game Show Season 4 – https://goo.gl/lZ0NQi
Subscribe to our channel: http://goo.gl/ugyaOf
Like us on Facebook: http://Facebook.com/15MofeRadio
Follow us on Twitter: http://Twitter.com/15MofeRadio
Instagram: http://Instagram.com/15MofeRadio
WATCH LIVE ON WEDNESDAY'S: LATE NIGHT TABOO – 10-12pm (EST)